Case Study:
Serena's Stem Cell Treatment of Laminitis
---
1. Injection therapy using PulpCyte stem cell and connective tissue particulate

2. Minimal to little rotation is critical for success. Therefore, intervention with stem cell treatment should occur as soon as possible.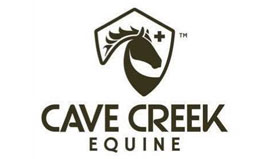 ---
Patient: The affected pony is a bay 15-year old Dartmore/Welsh Arab cross. The pony is used for pleasure riding and driving carriages.

Clinical Presentation: The pony had experienced two laminitic episodes approximately 6 years ago, as well as 2 years prior to presentation. The original cause of the founder had been deemed to be pasture founder. The mare had managed conservatively with anti-inflammatories, farrier work and stall-rest as well as limited turnout. The most recent event was not associated with pasture but the pony had contracted pigeon fever (in the fall 2016) and subsequently suffered another episode of laminitis during the pigeon fever event.

The mare was treated with 2 grams of Phenylbutazone daily as well as stall rest and heart bar shoes but she significantly deteriorated during the course of three months and was mostly recumbent in the weeks prior to presentation. Radiographic examination showed no coffin bone rotation, but the pony remained very painful and did not improve. The pony has historically been treated with pergolide due to Cushing's disease.

Radiography: The radiographs below were taken a few days before the stem cell therapy. More recent images 4 and ½ months after treatment show no significant change in the coffin bone position within the foot.
---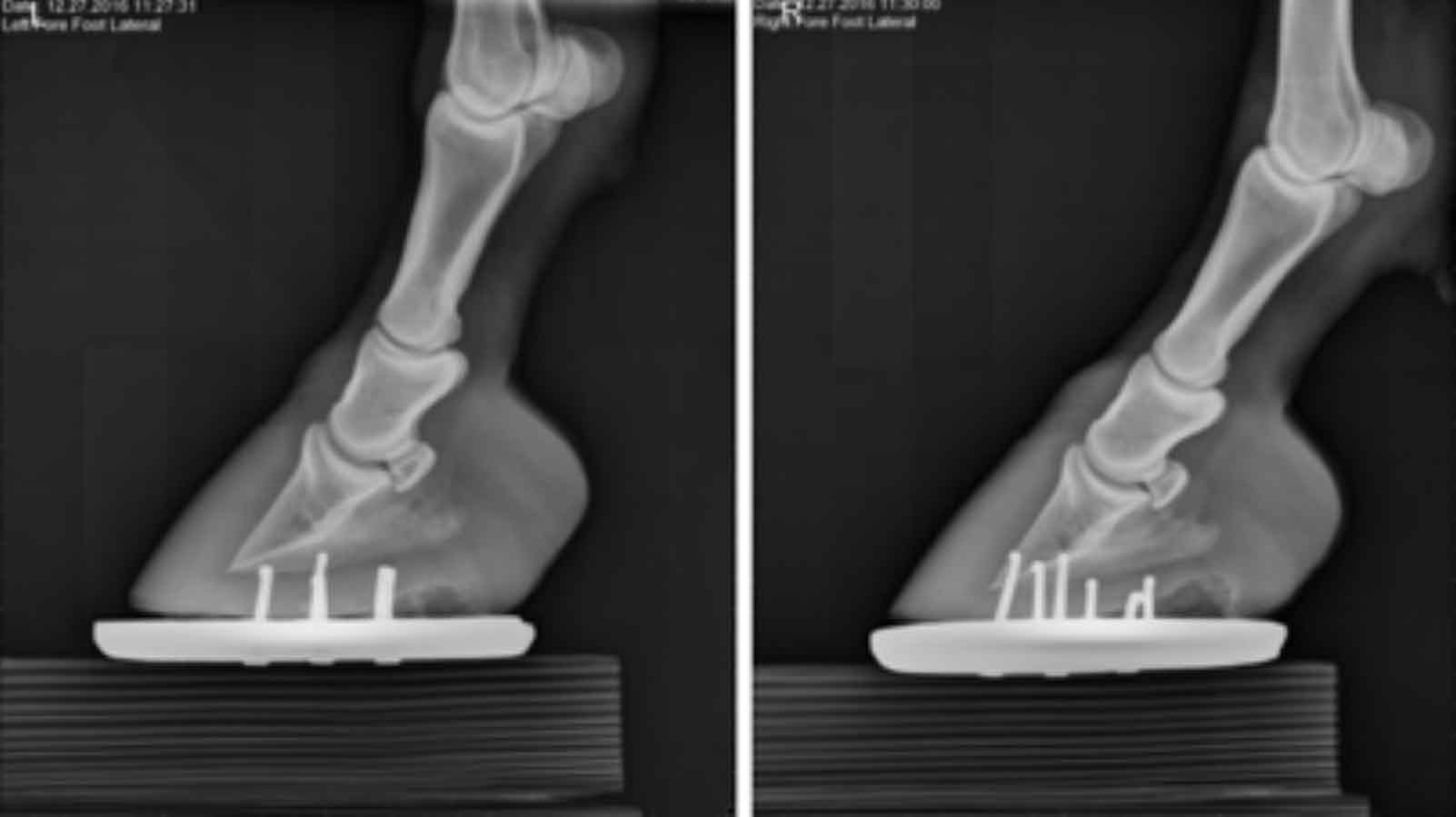 Treatment: The laminitis was treated with one dose of PulpCyte (10 million particles/dose) in a proprietary solution and injected under ultrasound guidance into each affected limb. The Pony was placed on stall rest with deep clean bed and shavings for support and comfort. Then as she recovered, she was hand walked.

Response: After the treatment, the mare remained mostly recumbent for several days but within 12 days she began to brighten up significantly and began to walk willingly. By Day 12 the dose of Phenylbutazone had been reduced to 1 gram daily. The videos below show the pony on the day of treatment and then again 12 days later. The pony was shod with clogs soon after treatment and continued to become progressively more comfortable during the period of January to April 2016. She was then turned out into a sand arena for two months during which time she was able to move freely and was able to turn well in all directions again. The mare is now back under saddle a has recently been harnessed to resume driving exercise.
---
Serena Day 12 After Treatment
---
---
Brief Discussion: The PulpCyte product used for this case is a dental pulp-derived stem cell product that also contains connective tissue particles with a proteomic profile of anti-inflammatory as well as growth factors (Bertone et al., 2017). The premise is that this product will reduce laminar inflammation, but potentially also provide a regenerative function for injured vascular tissues within the pedal lamina, which has been reported in other species (Capoccia et al., 2009).

Previous work by the author and his former colleagues at UC Davis have shown that mesenchymal stem cells arterially perfused at the level of the median artery show a good distribution pattern in distal limb, including the foot, even without a tourniquet (Trela et al., 2014). In fact, the use of a tourniquet in arterial perfusion has been associated with thrombosis and associated clinical complications (Sole et al., 2013). Arterial perfusion below the level of the fetlock joint in this clinical case was chosen to maximize the number of cells available to the laminar vasculature. Arterial infusion of stem cells at the carpal level of the median artery showed that using a needle injection is easier and associated with less complications than catheterization (Spriet et al., 2015). This is important as perfusion of the palmar digital artery at the distal aspect of the sesamoid bone is considerably more challenging.

It is also notable that two other young reining horses with acute laminitis but no to minimal coffin bone rotation had recently been treated in our practice. Just as with this pony, their pain improved significantly within a 12 to 14-day period and both of these horses have recovered within a 6-month period and are back to work.

In summary, early stem cell therapy in horses that show laminitic pain but have little to no signs of coffin bone rotation appear to benefit greatly from the intra-arterial perfusion of this particular stem cell product. More work is required to characterize the role that dental pulp-derived mesenchymal stem cells and connective tissue particles play in the recovery of inflamed laminar tissues.
---
References:

Bertone, A.L., Reisbig, N.A., Kilborne, A.H., Kaido, M., Salmanzadeh, N., Lovasz, R., Sizemore, J.L., Scheuermann, L., Kopp, R.J., Zekas, L.J., and Brokken, M.T. (2017). Equine Dental Pulp Connective Tissue Particles Reduced Lameness in Horses in a Controlled Clinical Trial. Front Vet Sci 4, 31.

Capoccia, B.J., Robson, D.L., Levac, K.D., Maxwell, D.J., Hohm, S.A., Neelamkavil, M.J., Bell, G.I., Xenocostas, A., Link, D.C., Piwnica-Worms, D., Nolta, J.A., and Hess, D.A. (2009). Revascularization of ischemic limbs after transplantation of human bone marrow cells with high aldehyde dehydrogenase activity. Blood 113, 5340-5351.

Sole, A., Spriet, M., Padgett, K.A., Vaughan, B., Galuppo, L.D., Borjesson, D.L., Wisner, E.R., and Vidal, M.A. (2013). Distribution and persistence of technetium-99 hexamethyl propylene amine oxime-labelled bone marrow-derived mesenchymal stem cells in experimentally induced tendon lesions after intratendinous injection and regional perfusion of the equine distal limb. Equine Vet J 45, 726-731.

Spriet, M., Trela, J.M., and Galuppo, L.D. (2015). Ultrasound-guided injection of the median artery in the standing sedated horse. Equine Vet J 47, 245-248.

Trela, J.M., Spriet, M., Padgett, K.A., Galuppo, L.D., Vaughan, B., and Vidal, M.A. (2014). Scintigraphic comparison of intra-arterial injection and distal intravenous regional limb perfusion for administration of mesenchymal stem cells to the equine foot. Equine Vet J 46, 479-483.
TERMS OF SERVICE


Important – Read Carefully

This web site is operated by StemLutions, LLC. ("the Company"). By using or visiting this web site (hereinafter referred to as "Site"), you agree that you are subject to all terms and conditions contained in this Terms of Use Agreement ("Terms of Use") and the Privacy Policy, (collectively, the "Agreements"). The Agreements are hereby incorporated by reference and made a part hereof as if fully set forth herein. This is a binding agreement between the Company and you. If you do not agree to any of the terms in the Agreements, then please do not use the Site and/or purchase the products offered.

To serve your privacy needs and to adapt to changing legal and industry standards, the Company reserves the right, at its discretion, to update or revise the Agreements. You are encouraged to review the Agreements, and the other policies, terms and conditions, and notices posted on this Site from time to time. Your continued use of the Site following any posted revisions constitutes your acceptance of such changes. Additionally, by purchasing products, or in submitting information in connection with the Site's online forms or search fields, you reiterate your agreement to the modified terms. You also understand and agree that if you use the Site after the date on which these Terms of Use has been amended, the Company will treat your use as an acceptance of the updated Terms of Use or additional terms. Nothing in these Terms of Use shall be deemed to confer any third-party rights or benefits.



---


Account Information

In order to access some features of the Site, you will have to create an account. When creating an account, you agree to provide accurate and complete information. You are solely responsible for the activity that occurs on your account. You agree to keep your password confidential. You may not share your password or permit anyone else to use your account.

You must notify the Company immediately of any breach of security or unauthorized use of your account. You agree to never use another's account without permission from the Company. Your right to use the Site is not transferable. Any password or right given to you to obtain information or documents or to purchase products or services is not transferable. The Company is not liable for any loss that you may incur as a result of someone else using your account, either with or without your knowledge.



---


Intellectual Property

The text, data, content, organization, images, graphics, design, software (including the underlying source and object codes), digital conversion and any other materials included in or related to the Site are property of the Company and/or the property of our content suppliers or clients and are protected under applicable copyright, trademark and other proprietary rights (including but not limited to intellectual property) (the "Intellectual Property"). The collection, arrangement and assembly of all content on the Site is subject to copyright as a "collective work" under the United States Copyright laws and we own a copyright in the selection, coordination, arrangement and enhancement of such content. The copying, redistribution, use or publication by you of any such matters or any part of the Site, except as allowed under these Terms of Use, is strictly prohibited and may violate copyright, trademark, and other laws. Except as specifically permitted on the Site, you may not modify, remove, delete, add to, publish, transmit, participate in the transfer or sale of, create derivative works from, or in any way exploit any content. You do not acquire ownership rights to any content, document or other materials viewed through the Site. The posting of information or materials on the Site does not constitute a waiver of any right in such information and materials.



---


How You May Use the Intellectual Property

The content of this Site is protected by copyright under both United States and foreign laws. You may download and view a single copy of the materials found on the Site for informational purposes and personal use only, provided that any copy that you make of the Company's Intellectual Property must bear any copyright, trademark or other proprietary notice located on the Site which pertain to the Intellectual Property being copied. Except as authorized in this paragraph, you are not being granted a license under any copyright, trademark, patent or other intellectual property right in the material or the products, services, processes or technology constituting the Intellectual Property. All such rights are retained by the Company or any third party owner of such rights. You may not create framed links or deep links to the Site without express written permission from the Company.

Content on the Site is being provided to you "AS IS" and "AS AVAILABLE" for informational purposes only. You may not use the Site for any commercial purposes without the express written consent of the Company. The Company, our logo, and all related design marks and slogans are the trademarks or service marks of the Company or its subsidiaries or affiliates. You are not authorized to use the Company name or mark in any advertising, publicity, or any other commercial manner without the prior written consent of the Company.



---


Notification and Procedure for Making Claims of Copyright Infringement

It is the Company's policy to respond to notices of alleged copyright infringement that comply with applicable international intellectual property law (including, in the United States, the Digital Millennium Copyright Act) and to terminate the accounts of repeat infringers. You may notify the Company if your work has been copied in a way that you believe constitutes copyright infringement. In compliance with Title 17, United States Code, Section 512(c)(2), the Company has designated a Copyright Agent to receive any such notification. The complete details of providing such notification to the Company's Copyright Agent are located on the Site.



---


Restrictions on Use of Site and Services by Member

You agree not to use the Site for any purpose that is unlawful or prohibited by the Agreements. You may not use the Site in any manner that could damage, disable, overburden, or impair this Site or interfere with any other party's use of the Site. You may not seek to obtain any materials or information through the Site by any means not intentionally made available or provided for through the Site.



---


No Scraping or Aggregation

You agree not to use or launch any automated system, including without limitation, "robots," "spiders," "scripts," "webcrawlers," or "offline readers," that accesses the Site in a manner that sends more request messages to our servers in a given period of time than a human can reasonably produce in the same period using a conventional on-line web browser. The Company reserves the right to revoke these exceptions either generally or in specific cases. You agree not to collect or harvest any personally identifiable information, including account names, from the Site. You agree not to solicit, for commercial purposes, any users of the Site. You agree that you will not use any device, software or routine that interferes with the proper working of the Site nor shall you attempt to interfere with the proper working of the Site. You agree that you will not take any action that imposes an unreasonable or disproportionately large load on our infrastructure.



---


How we may use information you provide to us

Any feedback, data, answers, reviews questions, opinions, advice, statement, recommendation, comments, suggestions, ideas, or the like ("Posts") which you send to the Company will be treated as non-confidential and nonproprietary and you agree that any such Posts may be reproduced, used, and distributed by the Company for any purpose without restriction. You are solely responsible for your Posts.



---


Privacy

The Company collects and stores information about the web pages you view and the data you enter in online forms and search fields. Although the Company does not attempt to analyze web usage data to determine the identity of any user, some information collected is personally identifiable. The Company also aggregates and analyzes the information it collects to improve its service and to prepare reports about aggregate web usage and shopping habits. For a full discussion of how we treat your personally identifiable information, please see our Privacy Policy located on the Site.



---


Third Party Sites

This Site may link you to other sites on the internet ("Linked Sites"). The Linked Sites are not under the Company control, and the Company is not responsible for the contents of any Linked Sites, including without limitation the accuracy, copyright compliance, legality, or decency of the Linked Sites or any links contained therein. The Company does not screen the web sites included in its services and these Linked Sites are maintained by persons over whom the Company exercises no control. These links are provided for your convenience, and do not imply endorsement of the Linked Sites by the Company or any association with its operators. All rules, policies (including privacy policies) and operating procedures will apply to you while on such sites. We are not responsible for information provided to you by any merchants. We and the merchants are independent contractors and neither party has the authority to make any representations or commitments on behalf of the other. Accordingly, we encourage you to be aware when you leave the Site and to read the terms and conditions and privacy policy of each other web site that you visit.



---


Endorsements

All product and service marks contained herein that are not the Company marks are the trademarks of their respective owners. References that we make to any names, marks, products or services of third parties or hypertext links to third party sites or information do not necessarily constitute or imply our endorsement, sponsorship, or recommendation of the third party, information, product, or service.



---


Indemnity

You agree to defend, indemnify, and hold harmless the Company and its employees, agents, directors, officers, and shareholders from and against all liabilities, claims, damages, and expenses (including without limitation reasonable attorneys' fees and costs) arising out of your use of the services, your breach or alleged breach of this agreement, and your breach or alleged breach of the intellectual property or proprietary or other rights of third parties.



---


Disclaimer of Warranties/Limitation of Liability

ALL MATERIALS, INFORMATION, AND SERVICES INCLUDED IN OR AVAILABLE THROUGH THIS SITE ARE PROVIDED "AS IS" AND "AS AVAILABLE." THE COMPANY DISCLAIMS ALL WARRANTIES OF ANY KIND, EXPRESS OR IMPLIED, INCLUDING WITHOUT LIMITATION IMPLIED WARRANTIES OF MERCHANTABILITY, FITNESS FOR A PARTICULAR PURPOSE, AND NONINFRINGEMENT. The Company makes no warranties or representations concerning the suitability, reliability, availability, timeliness, or accuracy of the information, products, or services contained in or obtained through the site for any purpose. YOUR USE OF THIS SITE IS SOLELY AT YOUR OWN RISK. Some jurisdictions do not permit the exclusion of certain warranties; these exclusions may not apply to you.

IN NO EVENT SHALL THE COMPANY BE LIABLE FOR ANY DAMAGES WHATSOEVER, INCLUDING DIRECT, SPECIAL, PUNITIVE, INDIRECT, CONSEQUENTIAL, OR INCIDENTAL DAMAGES OR DAMAGES FOR LOSS OF PROFITS, REVENUE, USE, OR DATA WHETHER BROUGHT IN CONTRACT OR TORT, ARISING OUT OF OR CONNECTED WITH THE SITE OR THE USE, RELIANCE UPON, OR PERFORMANCE OF ANY MATERIAL CONTAINED IN OR ACCESSED FROM BEYONDTHETREES.NET, INCLUDING WITHOUT LIMITATION THE ACCURACY OF BUSINESS INFORMATION POSTED THEREIN.

In no event shall the total aggregate liability of the company for any claims, losses or damages exceed the total amount paid by you to the Company for the service for which such claim, loss or damage occurred, whether in contract, tort, or otherwise, including without limitation due to negligence. The foregoing limitation of liability and exclusion of certain damages shall apply regardless of the success or effectiveness of other remedies. If any action is necessary to enforce or interpret the terms of this Agreement, the Company, if determined to be the prevailing party in accordance with applicable case law in Ohio shall be entitled to reasonable attorneys' fees, costs and necessary disbursements from you in addition to any other relief to which the Company shall be entitled.

The Site also contains information about us and our mission. While this information was believed to be accurate as of the date prepared, we disclaim any duty or obligation to update this information.

If you are dissatisfied with any portion of the site or the associated services, your sole remedy is to cease using them.

A printed version of this agreement and of any notice given in electronic form shall be admissible in judicial or administrative proceedings concerning this agreement.



---


Termination

The Company reserves the right to terminate your access to the Site or to any or all of the services at any time without notice for any reason whatsoever. Upon request for cancellation by you or termination of services by the Company or you, you may be entitled to a refund of fees, if any, paid to the Company by you. Any such refund, if available, shall be governed by the terms and conditions of the Company's Refund Policy located on the Site.



---


Miscellaneous

The Site is operated from a location in the State of Ohio, United States of America. We make no representation that materials found at our Sites are appropriate or available for use in other locations. If you access our Site from other locations, you are responsible for compliance with local laws. You agree that: (1) the Site shall be deemed solely based in Ohio; and (2) the Site shall be deemed a passive Site that does not give rise to personal jurisdiction over the Company, either specific or general, in jurisdictions other than Ohio. These Terms of Use shall be governed by the substantive laws of the State of Ohio without regard to its conflict of laws principles. Any claim or dispute between you and the Company that arises in whole or in part from the Site shall be decided exclusively by a court of competent jurisdiction located in Franklin County, Ohio. These Terms of Use, together with the Privacy Policy and any other legal notices published by the Company on the Site, shall constitute the entire agreement between you and the Company concerning the Site. If any provision of these Terms of Use is deemed invalid by a court of competent jurisdiction, the invalidity of such provision shall not affect the validity of the remaining provisions of these Terms of Use, which shall remain in full force and effect. No waiver of any term of these Terms of Use shall be deemed a further or continuing waiver of such term or any other term, and the Company's failure to assert any right or provision under these Terms of Use shall not constitute a waiver of such right or provision. the Company reserves the right to amend these Terms of Use at any time and without notice, and it is your responsibility to review these Terms of Use for any changes. Your use of the Site following any amendment of these Terms of Use will signify your assent to and acceptance of its revised terms. YOU AGREE THAT ANY CAUSE OF ACTION ARISING OUT OF OR RELATED TO THE SITE MUST COMMENCE WITHIN ONE (1) YEAR AFTER THE CAUSE OF ACTION ACCRUES. OTHERWISE, SUCH CAUSE OF ACTION IS PERMANENTLY BARRED.


PRIVACY POLICY


This Website is operated by StemLutions, LLC. (the "Company"). By accessing, browsing, visiting or in any way using this Website ("Site" or "Website"), you acknowledge having read and understood the Privacy Policy ("Policy"), and you agree that you are subject to all terms and conditions contained herein. This Policy is a binding agreement between the Company and you. If you do not agree to any of these terms, you may not use the Website. The Company reserves the right, at its discretion, to update or revise the Privacy Policy. Although we may attempt to notify you when major changes are made to the Privacy Policy, you should periodically review the most up-to-date version. Your continued use of the Site following any posted revisions constitutes your agreement to such changes. This policy explains what information we collect about you when you visit our Website and how we handle such information. The information we collect and how we use such information depends upon what you do when visiting our Site.

To serve your privacy needs and to adapt to changing legal and industry standards, the Company reserves the right, at its discretion, to update or revise the Agreements. You are encouraged to review the Agreements, and the other policies, terms and conditions, and notices posted on this Site from time to time. Your continued use of the Site following any posted revisions constitutes your acceptance of such changes. Additionally, by purchasing products, or in submitting information in connection with the Site's online forms or search fields, you reiterate your agreement to the modified terms. You also understand and agree that if you use the Site after the date on which these Terms of Use has been amended, the Company will treat your use as an acceptance of the updated Terms of Use or additional terms. Nothing in these Terms of Use shall be deemed to confer any third-party rights or benefits.



---


Information Collected from All Visitors

For all visitors, we collect and store non-personally-identifiable information including the name of the domain from which you access the Internet (for example, aol.com, if you are connecting from an America Online account); the date and time you access our Site; and the Internet address of the Website from which you linked directly to our Site. We use the information we collect to measure the number of visitors to the different sections of our Site, to help us make our Site more useful to visitors, to help diagnose problems, to help identify you, and to generally administer the Website.



---


Information Collected from Certain Visitors

In addition to the general information collected from all visitors to the Website, in order to access some of the features of the Website, you will be required to disclose additional information.

Additionally, if you contact the Company by email or by filling out a form on our Website, you will also be providing us personal information (e.g. your name, addresss, telephone number, email address or other information. The Company will store such information in order to respond to or process your request or otherwise resolve the subject matter of your submission.



---


Protection of Information

The Company takes precautions to ensure that all information provided by visitors is kept private. We use reasonable measures to protect such information that is stored within our database, and we restrict access to such information to those employees who need access to perform their job functions, such as customer service personnel and technical staff. Please note that we cannot guarantee the security of such account information. Unauthorized entry or use, hardware or software failure, and other factors may compromise the security of such information at any time.

---


Sharing of Information

We may share information with third party suppliers who agree to protect its confidentiality. This information may include the aggregate data collected regarding the visitors to the Website and certain information that may have been provided to the Company by you. The Company may also choose to share aggregate usage information for marketing purposes; provided, however, that this will generally not include the sharing of your personal information.

From time to time, the Company may also enter into a special relationship with another company that is not owned by the Company to provide additional features on the Site. These special relationships may include "powered by" partners, business partners, sponsors, and co-branded Sites (referred to here as "Co-Branded Pages"). These might include, for example, pages that share our name and that of another entity. You should look for a specific privacy statement on any such Co-Branded Page. Any personal information that you provide when signing up at one of those Co-Branded Pages may be shared with our third-party partner. You should also check our partner's Website for information regarding its privacy policies.

We employ other companies and individuals to perform functions on our behalf, including technical support services. To perform those functions, it may be necessary for them to obtain access to the Company's databases and servers, which may contain personally identifying information about users. They are not permitted to use such access or information for any purpose other than that for which they are retained, but the Company cannot guarantee that such third parties will not abuse their access privileges.

We will also disclose any information we possess in response to subpoenas, court orders, or legal requirements, and such information might be used by the receiving party to determine your identity, your web usage and online behavior or other things about you. We generally do not inform users of such requests for information, although we might try to do so in some cases.

If this Site is sold to, or merges with, another company not owned by the Company, you should expect that some or all of the information collected from this Website may be transferred to the buyer or surviving company. If so, the Company will seek to obligate the acquiring company to use any personal information transferred by this Site in a manner consistent with this Policy, but cannot guarantee that it will be able to impose that requirement or that the acquiring company will comply.

Except as otherwise described in this Policy, the Company will not disclose personal information to any third party unless we believe that disclosure is necessary: (1) to conform to legal requirements or to respond to a subpoena, search warrant or other legal process received by the Company, whether or not a response is required by applicable law; (2) to enforce the Company Terms of Services Agreement or to protect our rights; or (3) to protect the safety of the members of the public and users of the service.

If at any time you would like your personal information deleted from the Website or the Company's records, please email us with your request and we will delete this information.



---


Cookies

"Cookies" are files or pieces of information sent to your browser when you visit a website, and you will find them at most sites. Most browsers are initially set to accept cookies. If you would prefer, you can set your browser to refuse cookies or to alert you when cookies are being sent so that you can flush them from your browser if you object to their presence. There are two types of cookies: persistent and non-persistent. Persistent cookies are stored on the hard drive of your computer, and remain there until they expire or you delete them. They are used to provide tailored information to a return visitor to the site by remembering what pages the visitor has viewed previously. We may use persistent cookies on our Website. Non-persistent cookies are used during a particular session, but are not stored on your computer's hard drive when the session is over. The information is stored only temporarily and is used primarily for technical reasons such as ease of navigation. We also use non-persistent cookies to enhance your visit to our Website; these cookies disappear automatically as soon as you end your session.



---


Linked Sites

This Site may link you to other Sites on the Internet ("Linked Sites"). The Linked Sites are not under the Company's control, and the Company is not responsible for the content of any Linked Sites, including without limitation the accuracy, copyright compliance, legality, or decency of the Linked Sites or any links contained therein. These links are provided for your convenience, and do not imply endorsement of the Linked Sites by the Company or any association with its operators. If you choose to send personally-identifying information to Linked Sites, you do so at your own risk. We do not control the collection or use of this information, and we make no representations about the privacy policies or practices of other Sites. Accordingly, we encourage you to be aware when you leave the Website and to read the terms and conditions and privacy policy of each other Website that you visit.



---


User Content

Feedback and other comments and statements that you choose to submit to the Company by any means – whether by email, telephone, letter or any other means – shall be considered nonconfidential and the Company is free to use such information on an unrestricted basis. You are strongly urged not to post any personal information that you expect to be kept private.



---


General

The Site is operated from a location in the State of Ohio, United States of America. We make no representation that materials found at our Sites are appropriate or available for use in other locations. If you access our Site from other locations, you are responsible for compliance with local laws.